Why You Should Test Your Air with Home AirCheck™ Professional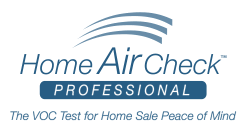 Poor air quality can worsen respiratory illnesses and leave certain individuals vulnerable to health issues. BK Home Inspections indoor air check home inspections can provide an affordable way to measure mold and chemical (VOC) levels in your prospective new home, compare them to safe levels recommended by the U.S. Green Building Council, and determine if VOC sources are materials the current owners have brought into the home or if they're from the home itself. We'll also provide an action plan to help improve the home air quality — before you move in. Make your investment a healthy one.
Give BK Home Inspections a call today to schedule an appointment with our Certified Master Home Inspector for your home inspection and the Home Air Check™ test.
The only composite home air quality assessment
Monitors for 400+ airborne chemicals and hidden mold growth with single air sample
One test covers 2,000 sq. ft.
Identifies pollutants that could make you sick
Helps answer "What's that smell?"
Identifies solvents possibly used by Meth labs
Identifies sulfur compounds found in contaminated Chinese drywall
Formaldehyde test available (additional charge)
Sample collected by home inspector or indoor air service contractor
Convenient—contractor handles all testing & shipping
Referrals or recommendations to improve air quality
Clear and concise analysis reports
Reports total VOC and mold levels
Predicts VOC sources giving you an action plan
Delivered to you within a few days of testing
Peace-of-mind at an economical price
2-for-1 air quality assessments: VOCs and active mold growth
Costs less than mold spore testing of a home
No drilling of holes in walls necessary (as with mold spore testing)
Detailed chemical analysis available
Bob Beisbier, owner of BK Home Inspections, is a Certified Master Home Inspector who has been providing professional and thorough indoor air check home inspections in southeast Wisconsin for over 12 years. Bob is Infrared certified, DILHR Certified, and provides Home Energy Tune-ups, Environmental Data Reports, Pre-sale Home Inspections and Pre-offer Home Inspections.